<!FONT COLOR=NAVY FACE=arial,futura,helvetica SIZE=-1>
DemeterJ: Adaptive and Aspect-Oriented Programming in Java
Fact Sheet
---
Demeter Research Group, Northeastern University, College of Computer Science, Boston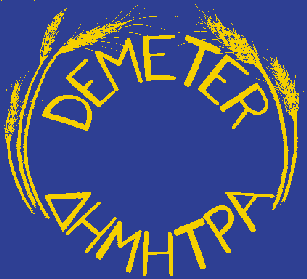 What does the product do? DemeterJ is a tool which allows you to write aspect-oriented Java programs (www.ccs.neu.edu/home/lieber/AOP.html) which are easy to evolve and reuse. The product is the result of 10 years of research/development in Adaptive Programming (AP) which started with the Law of Demeter. The techniques to achieve adaptive programming are to add strategic information about traversals and objects to Java programs and to follow style rules, such as the Law of Demeter. See www.ccs.neu.edu/home/lieber/LoD.html . The program takes as input Java programs extended with additional aspect descriptions and translates the extended Java programs to ordinary Java programs. <!Currently, an extended Java program consists of a single layer> <!of traversals and visitors. Future extended Java programs are planned to> <!have a layered architecture where each layer is expressed adaptively in> <!terms of the layer below. This leads to a loose coupling between the layers> <!and each layer is very flexible regarding the structure of the objects> <!which need to be processed. >
Why is the product useful? The product has the following benefits compared to unextended Java: (1) Programs become more flexible and adapt automatically to a wide variety of structural changes. (2) Programs are more readable since traversal strategies are a part of the program, i.e., the programmer's high-level intentions are encoded directly into the program code (as traversal strategies), rather than having to be written as comments or external documentation. This means that a part of the rationale capture for the program is an integral part of the program itself. Without the explicit traversal strategies, the programs are harder to read since often a large number of function calls would need to be studied to get the equivalent information in the strategies. (3) Programs become shorter because traversal strategies are shorter than the detailed traversals. The current version of the product supports adaptive object-oriented programming with the following aspects using widely used notations: The basic behavior is expressed in a language which has Java embedded in it. The language supports a traversal/visitor style of programming following a significant improvement to the Visitor design pattern. The object structure aspect is expressed in UML (Unified Modeling Language of Rational et al.) and the domain-specific language aspect is expressed in an extension to UML using an EBNF style syntax. Other aspects, including the synchronization aspect and the remote invocation aspect, are also supported. AP Studio is a graphical user interface for DemeterJ. It supports visualization of and visual development of DemeterJ programs, especially traversal strategies embedded in UML class diagrams. For further information regarding the usefulness of the adaptive and aspect-oriented approach, see the OOPSLA 98 paper on "Adaptive Plug-and-Play Components for Evolutionary Software Development" by Mezini and Lieberherr www.ccs.neu.edu/research/demeter/biblio/appcs.html .
Platforms. DemeterJ is implemented in DemeterJ and available in 100% pure Java source form. It runs on all platforms where Java runs. DemeterJ uses the Java Compiler Compiler.
DemeterJ is a high-level interface to the programming language Java which allows you to write Java programs adaptively. The compiler is accompanied by a graphical user interface, called AP Studio, which allows you to develop key components of adaptive programs graphically.

DemeterJ (1996-*) is the successor of Demeter/C++ (1989-1996) and incorporates several improvements to the Adaptive Programming technology. Adaptive Programming is the special case of Aspect-Oriented Programming (http://www.ccs.neu.edu/home/lieber/connection-to-aop.html), where one of the building blocks is expressible in terms of graphs and where the other building blocks refer to the graphs using traversal strategies. A traversal strategy is a partial specification of a class diagram pointing out a few cornerstone classes and relationships. Traversal strategies may be viewed as regular expressions specifying a traversal through a graph.

DemeterJ has the following features:
Supports the building blocks (aspects): Object Structure, Collaborations, Object Description, Synchronization, and Remote Invocation.
Has extensive support for the ubiquitous Visitor design pattern.
Allows you to follow the Law of Demeter in an ideal way.
Generates a visitor library from a class dictionary for example for printing, comparing and copying objects.
Provides a generic aspect weaver for Java.
Uses JavaCC to create parsers.
Is all written in Java as a DemeterJ program (implementation in its own technology).
Contains a reusable AP Library which implements the core technology behind adaptive programming. The AP Library is reusable to add adaptiveness to other tools.
Publications:
Short paper on DemeterJ.
Book on Demeter/C++ but much of it applies to DemeterJ. <!FONT COLOR=NAVY FACE=arial,futura,helvetica SIZE=-2>

Acknowledgements:
The implementors of the Java tools are (building on the work of the 
Demeter/C++ team: Xiao/Huersch/Silva-Lepe):

DemeterJ
Doug Orleans: 	principal architect and implementor
Johan Ovlinger: Traversals as objects, remote invocation aspect, 
  		Laboratory Guide
Josh Marshall:	Generic Aspect Weaver, synchronization aspect
Crista Lopes:	Provided design for synchronization and remote invocation aspects

AP Studio:
Kedar Patankar:	principal architect and implementor GUI 
Binoy Samuel:	principal architect and implementor AP Studio front-end


Faculty: Karl Lieberherr (PI) lieberherr@ccs.neu.edu, Mira Mezini, Jens Palsberg (Purdue University), Boaz Patt-Shamir, Mitchell Wand. <!/FONT>

Supported by DARPA and Rome Laboratory under agreement F30602-96-0239 (Evolution of Software Via Adaptive Programming).

version February 11, 2002