COM 1100 Professor Fell Homework Exercises 1 Due Monday November 3, 1997
Use the windows on the next page to show the output of the following code:
(The grid boxes are 20 pixels apart.)

// function prototypes
int F(int& x, int& y);
void G(int N, int& M);
void Boxes(int A, int B);
void Ovals(int x, int y, int A, int B);

// function definitions
void main()
{	// open text and drawing windows
	BigSquarePair();
	
	//Problem 1-----------------------
	for (int L = 0; L <= 360; L = L+40){
		MoveTo(L, 400);
		LineTo(L + 20, 360);
	}
		
	Boxes(10, 20);
	Boxes(40, 120);
	
	int size1 = 20, size2 = 40;
	for (int x = size2; x < 300; x = x + size1 + size2 )
		Ovals(x, 220, size1, size2);
	
	//Problem 2-----------------------	
	int x = 5;   
	cout << "Problem 2" << endl;
	cout << "x = " << x << endl;
	G(3, x);
	cout << "x = " << x << endl;
	
	x = 3;
	cout << "x = " << x << endl;
	G(5, x);
	cout << "x = " << x << endl;
	cout << endl;

	//Problem 3-----------------------
	{	
	int x = 1, y = 5, z;			
	cout << "Problem 3" << endl;	
	// setw(5) is to make columns line up.
	cout << setw(5) << "j" << setw(5) << "x" << setw(5) << "y" << setw(5) << "z" << endl;
	for (int j = 1; j <=5; j++){
		z = F(x, y);
		cout << j << setw(5) << x << setw(5)  << y << setw(5) << z << endl;
	}
	cout << endl;
	}

	//Problem 4-----------------------
	{
	int	x = 1;   
	int	y = 3;
	cout << "Problem 4" << endl;
	cout << setw(5) << "j" << setw(5) << "x" << setw(5) << "y" << endl;
	for (int j = 1; j <=5; j++){
		x = F(x, y);
		cout << j << setw(5) << x << setw(5) << y << endl;
	}
	}
	PressReturn();
} // end main


int F(int& x, int& y){
	if (x < y){
		x = 2*x;
		return y;
	}
	else{
		y = 2*y;
		return x;
	}
}

void G(int N, int& M){
	int P = 1;
	for (int k = 1; k <= N; k++)
		P = M*P;
	M = P;
}

void Boxes(int A, int Y){
	int W = 400 / A;
	int X = 0;
	
	for (int I = 0; 
		   X + W < 400; 
		   X += 2*W){
		PaintRect(X, Y, X+W, Y+W);
		W += 20;
	}
}

void Ovals(int x, int y, int A, int B){
	FrameOval(x-A, y-B, x+A, y+B);
	FrameOval(x-B, y-A, x+B, y+A);
}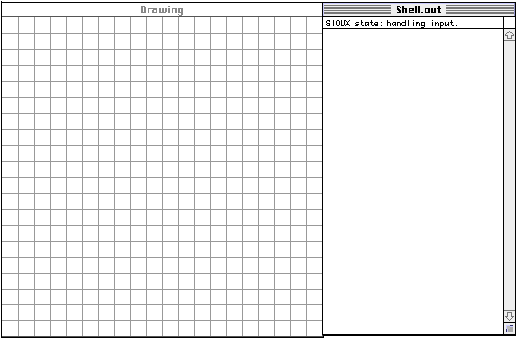 Problem 5: Assume the following declarations:

int 	score, number;
double 	angle;
char 	response, ch;
bool 	tired, done;

Construct a logical expression to represent each of the following conditions:
a. score is a passing grade, i.e. between 60 and 100)
b. number is divisible by 2 but not by 3
c. angle is between ¹ and 2¹
d. response is either 'Y' or 'y'
e. ch is a digit
f. tired but not done
Problem 6: Write a C++ function min that returns the smallest of 3 int arguments.
Problem 7: Write a C++ function GetCircleData that:
Takes int arguments x, y, and radius by reference
Prompts the user to input values for x, y, and radius
Sets x, y, and radius to the input values
Returns true if radius ³ 0 and false otherwise.
Problem 8: Write a function that returns through its reference parameters both the min and max of the first n items stored in the array A.
void extremes(int& min, int& max, int A[], int n);
Last Updated: October 19, 1997 8:09 pm by
Harriet Fell
College of Computer Science, Northeastern University
360 Huntington Avenue #161CN,
Boston, MA 02115
Internet: fell@ccs.neu.edu
Phone: (617) 373-2198 / Fax: (617) 373-5121
The URL for this document is: http://www.ccs.neu.edu/home/fell/COM1100/HW/Exercises1.html